During the assignment monitoring process, employers may find that some educators lack the necessary authorization(s) to serve English learners or bilingual students. This document provides a list of credentialing options available to assist employers in remedying this type of teacher misassignment.

It is a misassignment if an educator without an appropriate authorization has even one English learner student in their classroom. There are gradients of need among English learners, and educators are misassigned if the authorizations they hold are not aligned with the needs of the students they serve.
| Bilingual Instruction | Authorizes the educator to provide instruction in the student's native language | BA** |
| --- | --- | --- |
| English Language Development (ELD) | Authorizes educators to develop the English language among students designated as English learners (ELs) - authorization can be used in stand alone classes, and/or integrated into other instructional settings | ELA1, SA12 |
| Specially Designed Academic Instruction in English (SDAIE) | Authorizes educators to offer EL instruction within the specific content area authorized on credential and is intended to provide scaffolding so that the EL students can access and comprehend the curriculum. Some ELD occurs within the context of the specific curriculum area only, not as a separate departmentalized instruction area. | BA**, ELA1, SA12, ELAS, ELAM, ELAE |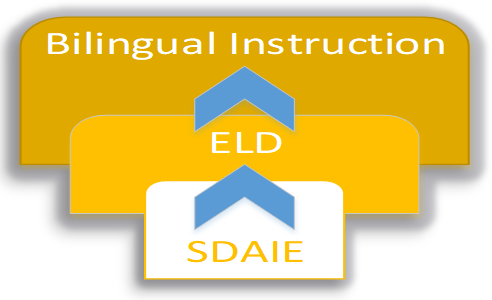 As well, these authorization are tiered, with Bilingual Instruction at the top of the hierarchy. Each subsequent authorization is subsumed within the higher authorization level. Because of this, educators who hold a Bilingual authorization can also provide ELD and SDAIE to their students, and so on. Additional information can be found in CL-622.