Determinations
Exceptions are not necessarily misassignments; there are multiple reasons why an educator may be otherwise legally authorized for an assignment outside of their credential area. Because of this, there are several different determination options available to justify exceptions. CalSAAS users can review exceptions and select the determination best describing the nature of the assignment. They can also provide documentation and comments as evidence for the selection. Monitoring Authorities may consider this information during their monitoring process. As well, they can request additional information if they require more evidence.
Note: If no determination is logged for an exception by the end of the monitoring cycle, it will be automatically determined as a misassignment.
Predetermined Exceptions
The following exceptions will be predetermined in CalSAAS depending on the CALPADS Coding of the assignment or Local Education Agency. All of these can be reviewed for accuracy by the Monitoring Authority prior to completing and submitting the exception.
1. Local Assignment Options

Local Assignment Options reported in CALPADS will transfer into CalSAAS
College Credit courses will be predetermined as Education Code §76004
Staff developer courses (6010 and 6011) will be predetermined as Title 5 §80020.4
Note that in most cases, only full credential holders are able to use Local Assignment Options.
2. Core Assignments
Core Assignments reported in CALPADS will transfer into CalSAAS
3. 999 SEIDs
Generic 999 SEIDs will be predetermined as Vacancies - the Local Course Code/Class ID/and Course Section reported in CALPADS are noted as a history entry on these exceptions so users can review the assignment and confirm the determination.
Hidden Predetermined Exceptions
Furthermore, elective courses in which the Commission does not issue a credential in the content, Independent study courses, alternative school assignments, and select online courses will be predetermined, and not displayed as exceptions in the system. The total number of these will be available on reports.
If an exception for an elective course does occur without predetermination, it is most likely due to the document of the holder not meeting LAO requirements (e.g. an emergency or intern permit).
For information related to how to view the predetermined Local Assignment Options that are hidden from the CalSAAS user interface, refer to the CalSAAS Reports webpage.
Determination Process
Determinations travel through a hierarchy. At the first level, local education agencies will review and determine exceptions. They will provide the bulk of the determinations, though nothing in the system precludes Monitoring Authorities from also participating in this process.

The Monitoring Authority is ultimately responsible for verifying and submitting all of the final determinations. Though not required, we recommend that Monitoring Authorities audit, at least, a sizable percentage of the determinations. However, the monitoring practices are at the discretion of the Monitoring Authority.
If the Monitoring Authority audits a determination, and finds insufficient evidence to accept it, they may return it to the LEA who logged it. At that point, the LEA may resubmit it with additional evidence, or change the determination.
LEA users have 60 days to make their initial determinations, but can use the full 90 days to address exceptions requiring more information from the Monitoring Authority.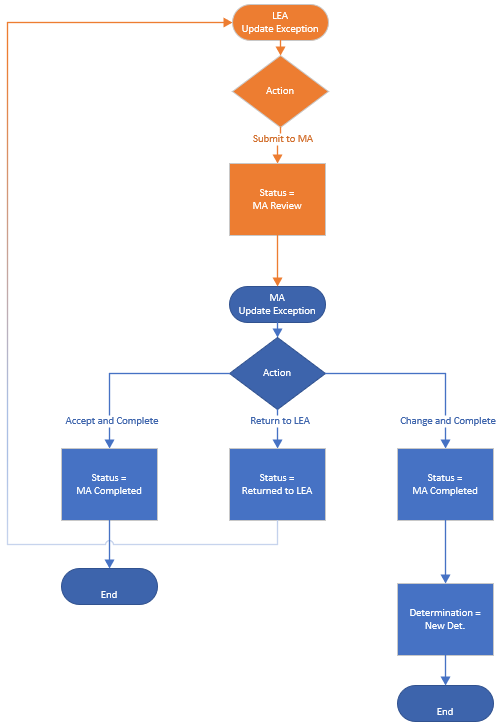 Types of Determinations
The system currently has eleven different determinations available for justifying exceptions. Below you will find a list of them, in addition to suggested information to provide with them.
Determination Hierarchy
There may be instances in which several determinations could apply to an exception. In the case that multiple determinations could apply the following determinations should be selected over others:
Misassignment
Corrected MA
2019-20 Charter
Vacancy
Local Assignment Option
Short-Term Waiver