English Learner (EL) services may fall under one of three types:
English Language Development (ELD)
English Language Development (ELD) or English as a Second Language (ESL) is instruction appropriate for the level of language proficiency as identified for each EL student. The instruction is designed to promote the effective and efficient acquisition of listening, speaking, reading, and writing skills of the EL student. Service is restricted to the grade level of the document.
Specially Designed Academic Instruction in English (SDAIE)
Specially Designed Academic Instruction in English (SDAIE) is an instructional approach designed to increase the level of comprehensibility of the English language in the content area of the class. The specially designed content instruction in a subject, such as math or social science, is presented in English to English learners. A SDAIE authorization is restricted to instruction in the subject area and grade level of the teacher's prerequisite credential (as applicable).
Instruction in the Primary Language or Bilingual Education
Instruction in the Primary Language, or Bilingual Education, is a method where instruction is provided in both English and the EL student's primary language, clarifying and facilitating comprehension of content subject matter. Service is restricted to instruction in the subject area and grade level of the prerequisite credential (if applicable). The primary language is printed on the credential document.
These authorizations are tiered, with each subsequent authorizations subsumed within the higher authorization level: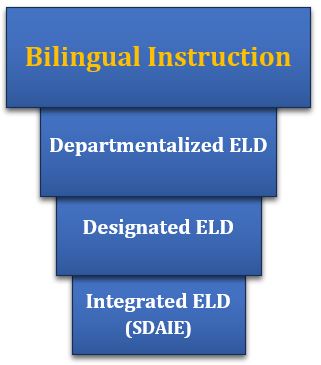 Currently issued teaching credentials with the following English Learner authorizations may provide Integrated and Designated ELD services:
Single Subject Teaching Credential with ELAS

Multiple Subject Teaching Credential with ELAM

Education Specialist Instruction Credential with ELAE



Following the adoption of the California ELD Standards in 2010 by the State Board of Education, the Commission reviewed the standards within the preparation programs related to teaching English learners. In 2014, the Commission determined that the EL authorizations for the Multiple Subject, Single Subject, and Education Specialist teaching credentials should be limited to providing ELD instruction within their content area and SDAIE based on their preparation. Therefore, these teachers would need to complete additional preparation to earn a full EL authorization that includes ELD instruction provided in a departmentalized ELD course. Integrated ELD, Designated ELD, and SDAIE all encompass the components of a comprehensive program for English learners.
Note, Departmentalized ELD requires special preparation and the appropriate authorization, and therefore cannot use core setting flexibility.

Dual Language or Bilingual Primary Language Instruction
An educator must hold a teaching credential authorizing the content being taught as well as the Bilingual Authorization (or other previously-issued comparable authorization such as BCLAD) in order to teach in a dual language or bilingual primary language instruction classroom.
Note, Bilingual Authorizations do not authorize the educator to teach the authorized target language in general education settings.