A Career Technical Education (CTE) classroom setting is one in which the curriculum has been designated as technical, trade, or vocational. CTE courses are part of a program of study that involves a multiyear sequence of courses that integrates core academic knowledge with technical and occupational knowledge, and provides students with a pathway to postsecondary education and careers. Such courses, also known as Vocational Education courses, commonly occur in Regional Occupational Programs (ROP) or Career Academies such as the California Partnership Academy (CPA).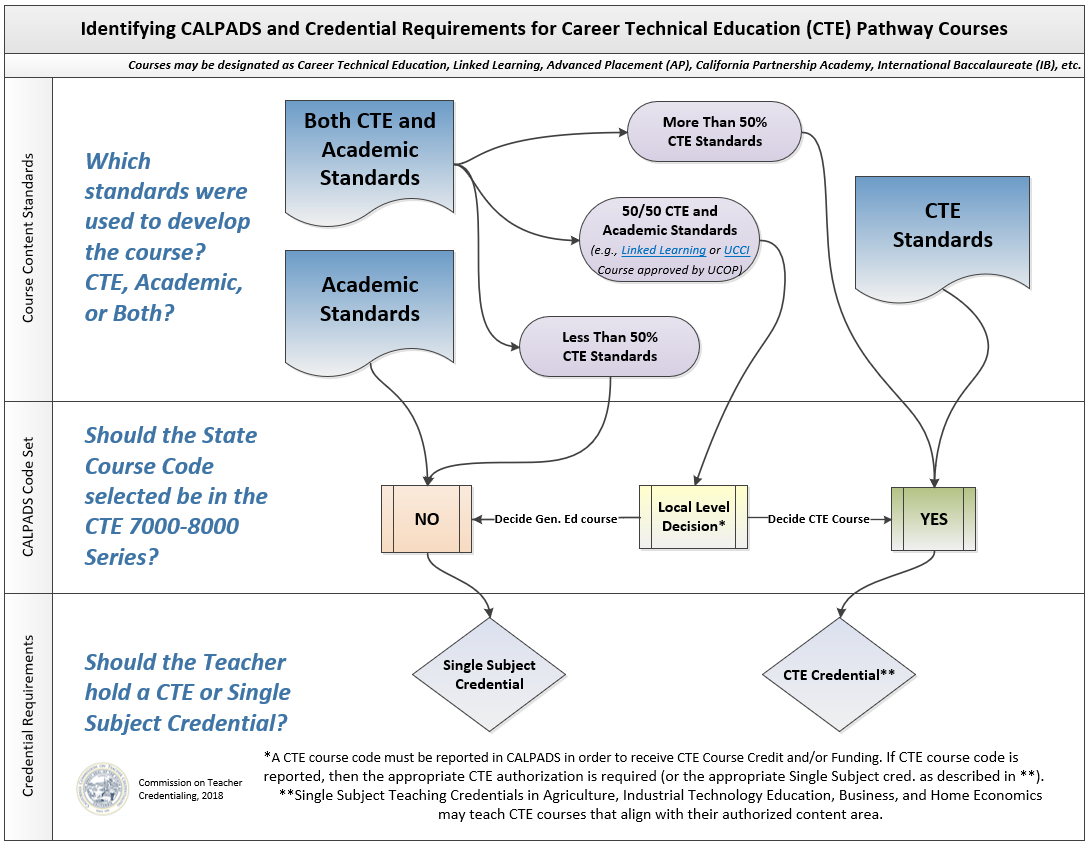 CTE is a critical component of a broad and deep school curriculum that helps prepare all students to be career and college ready. The CTE course provides relevance and real world content for academic studies. CTE course content is based on 50% or more of the content based on the CTE Model Curriculum Standards adopted by the State Board of Education.
CTE courses should be recorded in CALPADS by using course codes in the 7000-8999 range. Any educator assigned to teach in a CTE course must be authorized for service in a CTE setting. Failure to staff these courses appropriately will result in a misassignment.
Designated Subjects
Local Assignment Options (Adult Education)
Staff Developer in subject(s) listed on Adult Education Credential
Title 5 80020.4(c)
Program Coordinator in subject(s) listed on Adult Education credential
Title 5 80020.4.1(b)
Short-Term Staff Permit
Title 5 80021
Provisional Internship Permit
Title 5 80021.1
Adult Education Credential holder (no part-time) may serve as a substitute in courses organized primarily for adults
Title 5 80034.5(b)
Local Assignment Options (Special Subjects)
Driver Education (Classroom Instruction) ** May also consider Committee on Assignments or a Variable Term Waiver**
Education Code 44263
Local Assignment Options (Vocational Education/CTE)
Staff Developer in subject(s) listed on Voc. Ed or CTE Credential
Title 5 80020.4(d)
Program Coordinator in subject(s) listed on Voc. Ed. or CTE Credential
Title 5 80020.4.1(c)
Voc. Ed substitute teaching for any holder of a document requiring BA and BSR
Title 5 80025.3(a)
CTE Substitute Permit
Title 5 80025.5
Voc. Ed (Full-Time) or CTE credential holder may serve as CTE substitute
Title 5 80034.5(a)
Additional Resources
Updated December 29, 2022