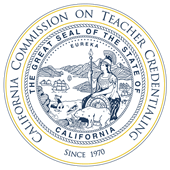 PRESS RELEASE
April 25, 2023
CONTACT:
Anita Fitzhugh, PIO, California Commission on Teacher Credentialing
(916) 327-0587
New California PK-3 Early Childhood Teaching Credential to equitably serve state's youngest learners, address need for new teachers
(Sacramento) - The California Commission on Teacher Credentialing is one step closer to establishing the state's newest credential for pre-kindergarten through third grade instruction designed to meet the needs of California's youngest learners and to expand the teaching workforce.
The Commission, on Friday, April 21, adopted credential regulations to be submitted to the Office of Administrative Law for formal review and approval.
The PK-3 Early Childhood Education (ECE) Specialist Instruction Credential is built on a foundation of developmentally, linguistically, culturally, and instructionally appropriate practices that take into consideration each child's unique abilities and experiences to help set them on a successful educational path.
"The Commission has worked diligently alongside an advisory panel of more than 30 early childhood education experts and practitioners to design a PK-3 credential that includes age-specific and culturally inclusive teaching and learning requirements," said Mary Vixie Sandy, executive director, California Commission on Teacher Credentialing.
"Our goal is to establish a corps of equity minded teachers who are deeply prepared to work with California's youngest learners and are responsive to their strengths, needs, and unique backgrounds."
The Commission began development of the PK-3 ECE credential in September 2021 following a historic level of ECE investments enacted earlier that year by the Legislature to support statewide universal transitional kindergarten (UTK) for all four-year-old children by the 2025-26 school year.
The PK-3 credential is designed to help meet this demand for qualified ECE teachers to support UTK, which once fully implemented is expected to enroll more than 300,000 students and require up to 15,000 more credentialed teachers, according to a report from the Learning Policy Institute.
The new PK-3 credential will provide accelerated pathways for current professionals in the early learning workforce who hold a Child Development Teacher Permit (CDP) and a bachelor's degree as well as Multiple Subject Credential holders to earn the credential and begin serving as quickly as possible in transitional kindergarten and K-3 settings.
The new PK-3 credential recognizes and values the rich background and extensive experience candidates who come from current and/or prior work in the ECE field bring to their preparation programs.
Together, these prior work experiences, knowledge and wisdom can provide foundational preparation to support candidates' transition from the Child Development Permit system to earning the PK-3 ECE Specialist Instruction Credential and serving as a teacher in a PK-3 classroom setting.
"With the development of a new PK-3 credential, the education field has a unique opportunity to collaborate with faculty from two and four-year institutions, and from many other disciplines who have the needed and valued expertise to develop high-quality relevant programs for the diverse early childhood workforce we wish to grow," said Marquita Grenot-Scheyer, chair of the California Commission on Teacher Credentialing and professor emeritus in the College of Education at California State University, Long Beach.
The Commission has not established a mandatory implementation timeline for institutions of higher education to offer the PK-3 ECE Specialist Instruction Credential preparation programs. However, select California State University campuses are among those that will seek approval from the Commission to offer the new credential program starting in the 2023-24 academic year.
The establishment of the PK-3 ECE Specialist Credential, along with the UTK implementation, is part of California's larger Master Plan for Early Learning and Care that underscores the state's commitment to advance equitable opportunities and outcomes for children.
More information:
CSU Set to Offer PK-3 Credential
The California Commission on Teacher Credentialing is an agency in the Executive Branch of California State Government. It was created in 1970 by the Ryan Act and is the oldest of the autonomous state standards boards in the nation. The major purpose of the agency is to serve as a state standards board for educator preparation for the public schools of California, the licensing and credentialing of professional educators in the State, the enforcement of professional practices of educators, and the discipline of credential holders in the State of California