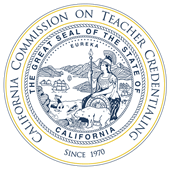 Commission on Teacher Credentialing
Child Development Permit Advisory Panel
January 9. 2017
10:00 a.m. - 4:30 p.m.
1900 Capitol Ave.
Sacramento, CA 95811
Item I: Call to Order – Child Development Permit Advisory Panel (CDP AP) Chair Dr. Deborah Stipek will open the meeting.
Item II: Approval of the Minutes of the September 2016 Meeting
Item III: Overview and Discussion of Previous Meeting and Related Interim Activities - Review and discuss, as needed, the activities and outcomes of previous CDP AP meetings and review the agenda for the current meeting. Advisory panel members and Commission staff may present information received from stakeholders since the September meeting.
Item IV: Public Survey Feedback - Commission staff will present an analysis of the public survey on the advisory panel's recommendations related to the Child Development Permit matrix and proposed draft Program Standards and Teacher Level Performance Expectations. The advisory panel will finalize its recommendations around suggested changes and modifications to the current Child Development Permit Matrix which will be presented to the Commission for discussion and potential adoption.
Item V: Public Comment on Matters not Included on the Agenda
All times are approximate and are provided for convenience only. The order of business within each day may be changed without notice. All items may be re-ordered to be heard on any day of the noticed meeting. Persons wishing to address the panel on a subject being considered at this meeting will be invited to do so during the meeting.
Reasonable accommodation: The meeting is accessible to the physically disabled. A person who needs a disability-related accommodation or modification in order to participate in the meeting may make a request by contacting Erin Sullivan at (916) 327-7178 or sending a written request to that person at 1900 Capitol, Sacramento, California, 95811. Providing your request at least five (5) business days before the meeting will help ensure availability of the requested accommodation.