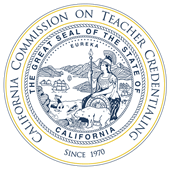 Commission on Teacher Credentialing
1900 Capitol Avenue
Sacramento, CA 95811
(916) 322-6253
All times are approximate and are provided for convenience only except time specific items identified herein (i.e. Public Hearing). The order of business within each day may be changed without notice. All items may be re-ordered to be heard on any day of the noticed meeting. Persons wishing to address the Commission on Teacher Credentialing on a subject to be considered at this meeting are asked to complete a Request Card and give it to the Recording Secretary prior to the discussion of the item.

Reasonable Accommodation: Any person with a disability requiring disability-related modifications or accommodations to participate in the meeting, including auxiliary aids or services, may make a request by contacting Rhonda Brown at (916) 322-6253 or sending a written request to that person at 1900 Capitol Avenue, Sacramento, CA 95811. Requests should be made as soon as possible but at least five working days in advance of the meeting.

Live Webcast Presentation: The Commission meeting will be webcast via the internet. Access the broadcast on the CTC Meetings page. While the Commission intends to webcast this meeting, it may not be possible to webcast all or part of the open meeting due to technical issues or limitations on resources.
Wednesday, February 7, 2018
Ad Hoc Committee
3:30 p.m.
C. Michael Cooney
Marysol De La Torre-Escobedo
Haydee Rodriguez

Thursday, February 8, 2018
General Session
9:00 a.m.
Linda Darling-Hammond, Chair
Fiscal Policy and Planning Committee
Kirsten Barnes, Committee Chair
Educator Preparation Committee
José Gonzalez, Committee Chair
Closed Session
Linda Darling-Hammond, Chair
The Commission will go into Closed Session pursuant to California Government Code section 11126, to consider the following pending litigation: Carroll v. Commission on Teacher Credentialing (Sacramento Superior Court, 34-2012-00135527-CU-OE). The Commission will also consider adverse actions, Petitions for Reinstatement, Proposed Decisions, hearing transcripts, and requests for reconsideration in discipline cases while in Closed Session pursuant to California Education Code sections 44245, 44248, and Government Code section 11126. The Commission will report out of Closed Session appropriately concerning any and all actions taken or determinations made therein.
Friday, February 9, 2018
General Session
8:30 a.m.
Linda Darling-Hammond, Chair
Reconvene General Session
Chair Linda Darling-Hammond will reconvene General Session.

Items agendized for the first day of the meeting, but not discussed, may be taken up today.
Certification Committee
Bonnie Klatt, Committee Chair
Educator Preparation Committee
José Gonzalez, Committee Chair
Information
4E: Reading Instruction Competence Assessment (RICA): Background and Discussion of Issues
This agenda item includes background on Education Code section 44283 and a summary of a public meeting held at the Commission to examine the use of the Reading Instruction Competence Assessment (RICA) as a measure to evaluate a candidate's preservice knowledge, skills, and abilities relative to effective reading and literacy instruction.
Yopp Slowik, H. (2015). Resource Guide to the Foundational Skills of the California Common Core State Standards for English Language Arts and Literacy in History/Social Studies, Science, and Technical Subjects. White Paper. Sacramento: California Department of Education.
Information
4F: Annual Report on Passing Rates of Commission-Approved Examinations from 2012-13 to 2016-17
This agenda item reports the passing rates of Commission-approved examinations. For each examination, the purpose of the examination, its structure, the scoring process, the examination volume, the first-time passing rate, and the cumulative passing rate are discussed. When available, the passing rate by demographic data is also discussed.
Information
4G: Update on the Commission's Program Surveys and Their Use in Accreditation
This agenda item provides an update on implementation of the Commission's program completer surveys, master teacher survey, and employer survey. The item also discusses how the information from surveys will be used in the accreditation process.
Professional Practices Committee
C. Michael Cooney, Committee Chair
Legislative Committee
Linda Darling-Hammond, Chair
Information
7A: Status of Legislation
Staff will present the status of those legislative measures of interest to the Commission and address questions regarding any other legislation identified by the Commissioners.
Reconvene General Session

Linda Darling-Hammond, Chair
Updated November 18, 2019